Article à la une
SAHARCHITECTS: Experience and pursuit of excellence in residential design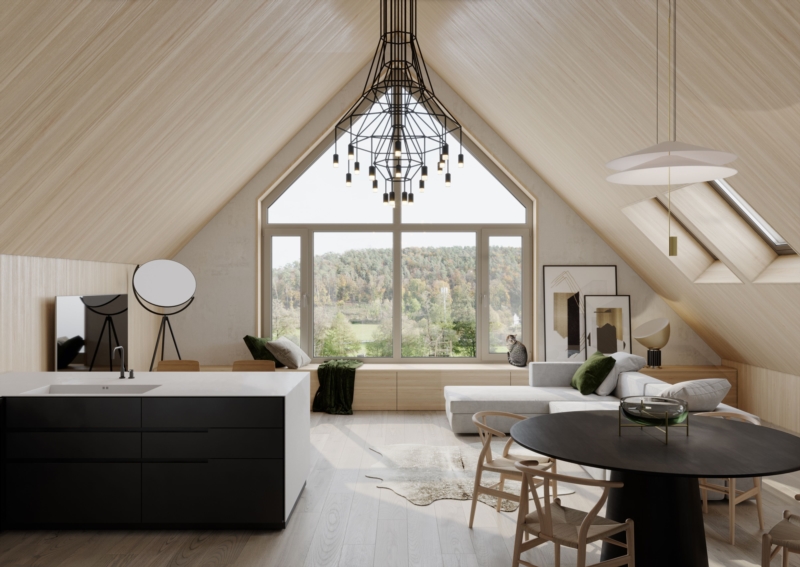 The residential development market in Luxembourg is a challenging one. The soaring prices for land and construction mean developers must offer homes of exceptional quality in order to stand out. With more than 15 years of experience in Luxembourg residential architecture, Saharchitects' founder, Sahar Azari knows the key is building a strong relationship with her clients so she can infuse their vision into the design.
She has created a boutique firm in Mersch where she has assembled a talented, international group of architects who are committed to deliver their work effectively and with excellence. They support their clients throughout every phase of the process starting with an extensive pre-design feasibility study. This study not only looks at building regulations and budgets, it goes further by exploring the client's aspirations for the project. These aspirations are then integrated throughout the design from the site planning to the details.
Expertise in residential design is something Saharchitects always brings to the table in such a relationship. Sahar explains, "In today's residential architecture, it is important to go beyond energy efficiency and create homes for people that positively transform the way they live. I want people to feel like they are on vacation when they come home entering an elegant environment that is a joy to live in."
Saharchitects has successfully designed a number of residential developments in Luxembourg. Working with natural materials, they are inspired by modern design with open, flowing spaces framed in extensive glazing to allow natural light and views to permeate the spaces.
The Nest in Neihaischen located in the forest behind Findel airport took on the outer form of the farmhouse it replaced, but the interiors are composed with timeless and subtle materials, textures and hues. Wood plank cast concrete ceilings respect the feel of the past construction while adding additional sound protection from the airport activity, and large glass windows and doors allow for exceptional views of the surrounding forest.
The team has also taken on the challenge of working with a ground-breaking wood construction technology for the project Atschent which will serve as an inviting entrance to the village of Septfontaines in the striking valley of the Sept Chateaux, the largest ecologically protected area of Luxembourg. The innovative glue-free laminated system is sustainable, circular and built with high-tech robotic systems. There have been many team meetings, but with a strong work ethic from all parties, the project is moving forward on schedule.
Under construction in Bertrange is an eloquent office and apartment complex. Harmonizing the busy, commercial Route de Longwy with a quiet neighborhood, the natural stone and expanded metal sheet façade of the buildings create a sense of brightness. Taking advantage of the significant change of elevation, a secluded garden built atop an underground parking garage was designed to connect the two towers. All 18 apartments have balconies and an abundance of natural light including two generous three-bedroom penthouses offering large terraces.
The quickly growing district of Hollerich will soon feature a Saharchitects apartment building as well. The 9-unit structure with a facade patterned in brick and stone had unique challenges due to a very small footprint, but those challenges were met, and it is under construction now. All of the units will have ample daylight and balconies allowing the tenants to have a natural retreat from a busy district.  
These four development projects are all LENOZ certification pending. They are also aligned with Saharchitects core design principals resulting in sophisticated structures that enhance their districts and the lives of those who live in them. If you are interested in working with Saharchitects, please visit their website to learn more and contact them to arrange an introduction.