Headline article
Good tips for driving your motorcycle in winter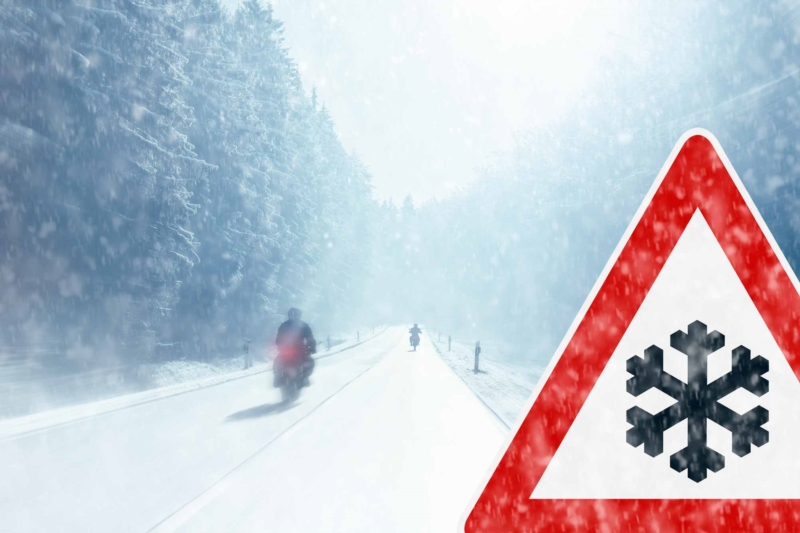 22 JANV. 2019
While the roads are covered with a thin film of snow, and that the winter is now there (and there!), You hesitate to take out your bike to move? Having apprehensions is legitimate, but rest assured ... If you take adequate measures, nothing will prevent you from crisscrossing the roads on your two-wheelers during the cold season. With all the same a slogan: prudence, in all circumstances.
The ba-ba of the perfect biker in cold weather
Before riding your horse, always inform yourself about the weather conditions and the state of the roads. In case of snowfall, and therefore poor visibility, make the choice of wisdom and store your bike in the garage.
In general, adopt a smooth ride , without strong acceleration or braking, and reduce your speed. Be particularly vigilant in windy areas, at the entrance of tunnels and in the undergrowth.
Dress accordingly
There are two types of cold you have to deal with: the real cold (outside temperature stopped), and cold felt (the one your body undergoes when you ride, and that varies with your speed). If temperatures are rather mild, a mid-season clothing, complete with some accessories, may be sufficient. In case of biting cold, do not hesitate to use special equipment that isolates drafts: technical textile under-pull, thermal underpants, under-gloves and gloves, sleeves, heated grips ...
Hydrate yourself enough
The cold and excessive perspiration caused by over-equipment causes rapid dehydration. Better to take regular breaks and drink plenty of water if you travel long distances, because your body tends to get tired faster. Prefer hot drinks for better recovery.
Warm up the numb parts
Move your joints and muscles from time to time so that they do not stick together during your trip. Take advantage of the stops to do some stretching and practice small quick exercises that will warm you up: bending, wrist reels ...
Respect (or even increase) safety distances
A reminder always useful: to help you memorize them, simply multiply by 6 the number of tens of your speed. For example, if you drive at 50 km / h, you multiply 5 by 6, or 30 meters. If you take the highway (130km / h), the safety distance must be 78 meters (13x6 = 78), which is equivalent to two white side bands. Keep in mind that on slippery ground, the stopping distance is significantly increased. Be careful not to over-tighten the vehicle in front of you.
Have your brakes checked
To ensure the proper functioning of your brakes at the desired time, have them disassemble and clean regularly at a garage to remove dirt that settle there. If you have disc brakes, you can pick up cleaning pumps from a dealership.
Control the charge of your battery
This is one of the elements of your craft that hates the cold more than other parts. If you regularly use your motorcycle, you do not really need to recharge your battery. Otherwise, it is better have a booster on hand. Compact, space-saving models are available in shops.
Take care of your tires
It is best to change your tiresbefore the arrival of winter , as they adapt better to harsh winter conditions when new and in good condition. Use road tires on cold days rather than sports tires, which take a lot longer to heat up. You can also slightly increase the pressure to develop the grooves.
Be visible at night
The lighting should allow you to see, but also and especially to be seen by other drivers. If you often have to ride a motorcycle after dark, have your headlights checked . Do not hesitate to put on a vest or a reflective chasuble (to bring with you) to avoid any risk of accident.
Equipment , overhaul , insurance ... All professionals and the best products to maintain your bike this winter are on Editus.lu! 
---
  READ ALSO  
Find all our practical guides auto and transport