Headline article
How to be beautiful at the beach?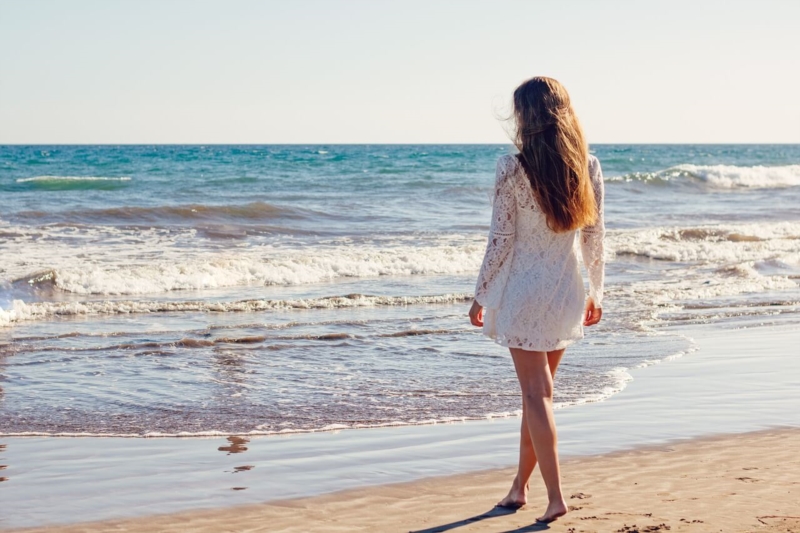 (Photo: © Pixabay)
UPDATED ON JULY 4TH. 2019
Reading time: 2 min
Between salt, sand and sometimes wind, it is not always easy to stay beautiful and fresh by the sea! Here are some tips that will change everything, and which you will not be able to do without.
The face
Make-up , if you love swimming and love to dive into the waves, it is essential to provide waterproof products.
The best known is the water resistant mascara, but you can also find on the market compact creamy powders with a high UV protection for the face. This is the best way to protect yourself from the sun while enjoying an immediate good-looking effect.
To have plumper lips, also consider moisturizing them with a UV protective gloss . You can choose a bright shade to enhance your complexion.
For your skin, and as you will be lightly made up with suitable products, nothing forbids you to spray from time to time a moisturizing mist that will prevent your skin from drying out.
The body
For the body, opt for a protective oil rather than a cream, it will give your skin a glamorous effect ultra glamorous. There are also some oils with glitter, like micro-particles of gold, for even more brilliance. The advantage is that the oil is also used in the evening to sublimate your tan and nourish the skin after the shower.
Contrary to what many people think wrongly, do not think that the 50 clues prevent you from tanning. The higher your sun protection rating , the longer your exposure time will be. Melanin will be slower to rise to the surface of your skin, but tanning will last longer.
For a perfect tan, think about getting a peeling at the beginning of the holiday with a special body care to remove all the dead skin accumulated during the winter.
The skin thus cleared of impurities will tan much faster and be of incomparable softness. Exfoliation also prevents regrowth of hair under the skin.
The hair
Do not forget this seduction asset !
To stay well coiffed, it is better to tie them in a ponytail and to flatten them with a nourishing and anti-fading oil . The hair has a tendency to quickly turn into straw.  
To avoid any risk of ending up with hair impossible to comb, it is better then to protect and feed them.
Nails
Finally, to be beautiful from the hands to the feet, do not neglect manicure and pedicure .
To be quiet, it is advisable to choose a semi-permanent varnish that will last between 15 days and 3 weeks. You will be quiet for a good part of your vacation and enjoy its impeccable outfit, ideal when you spend your time in the water or walk in the sand.
Hair removal, summerperfumeorhair careto repair your damaged hair : to be hot in all circumstances on the hot sand, put your trust in Editus!
---
  READ ALSO  
Join the community "Beauty & Wellness"and find even more thematic content!