Headline article
10 beauty tips for cold-resistant skin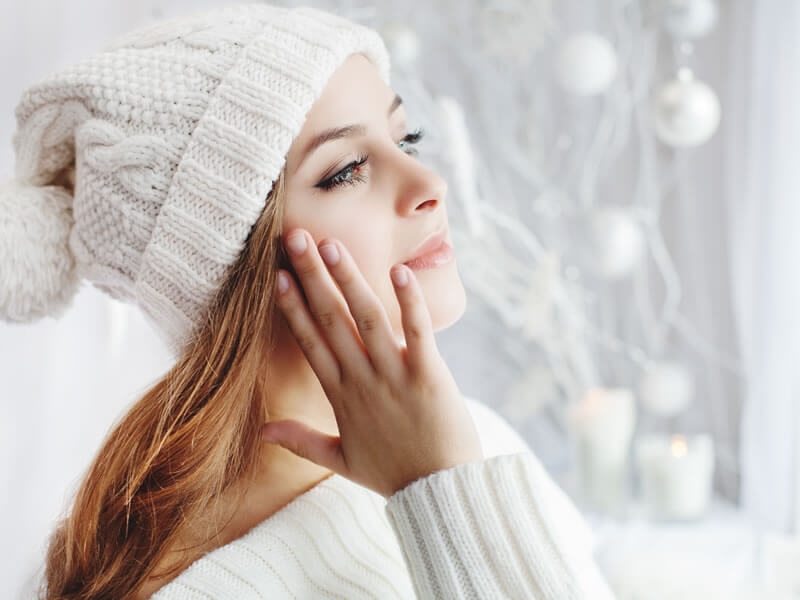 This will have escaped anyone: our skin is affected by the cold. Between tugging and redness, our skin dries faster. It is however possible to preserve it and find a radiant complexion, worthy of a summer season! For this, just adopt a few simple beauty tips everyday.
1. Choose your cream 
To fight the effects of cold, the first thing to do is to moisturize your skin daily. Think of your whole body every day with a moisturizing body lotion to apply after the shower.
With regard to your face and hands, these parts are the most exposed to the roughness of winter, so they are more sensitive. You have to pay special attention to it. For that, choose a cream richer and more moisturizing than that used the rest of the year , to use at least twice a day on the face, even more on the hands. Do not forget to massage well for better penetration to optimize the result.
2. Opt for a moisturizing serum 
It is the essential product to protect the skin of his face in case of tingling and tugging. Constantly confronted with the cold, she is much more fragile and suffers from intense desiccation. The serum, concentrated in active ingredients, penetrates more easily and reinforces the action of the moisturizer.
The application is usually done in the morning, before the daily care, and in the evening after makeup removal , but it can be renewed during the day if you feel the need. Do not hesitate to always have a tube on you.
3. Choosing an appropriate foundation 
If in the summer, it is easy to forget the foundation, in winter, it becomes necessary to hide imperfections of the face . Indeed, with the cold, it is often dull and marked by redness.
So choose a foundation for your complexion and apply a hazelnut all over your face: your skin will be more luminous and radiant!
4. To cleanse yourself 
To preserve your skin and hydrate it to the maximum, do not skip this step.
Choose a micellar water , ideal for sensitive skin, or a cleansing oil . They are softer and nourishing, and allow deep cleansing.
5. Thinking of lip balm 
We often tend to forget them, however, our lips are the first to suffer from the cold, between dryness and chapped skin. Do not neglect a good hydration using a repairing balm, nourishing and fat, based on shea butter for example.
By applying it several times a day, especially in the evening before going to bed, you are sure to have soft and supple lips.
6. Invest in a hand cream 
Just like the lips, the hands are also often neglected, and yet subjected to the same effects of the cold.
To prevent them from becoming rough, invest in a hand moisturizer. The ideal is to always have it with you so you can apply it several times a day.
7. Exfoliate your skin in moderation 
A scrub specific allows to remove the dead skin cells, as well as facilitate the absorption of moisturizing care.
It is therefore necessary, but should not be too regular so as not to attack your skin. The ideal is to do it once a week .
8. Avoid hot showers and baths 
Better to flee as they tend to dry out the skin. Same thing for shower gels and soaps; therefore opt for oil-based products that do not foam, so as not to reduce the sebum necessary for hydration.
Finally, at the drying level, do not rub your body vigorously, but lightly pat it with your towel.
9. Moisten your interior 
The cold is not the only one acting on your skin. The heating will also contribute to its drying up.
This is why it is necessary to use a humidifier in an interior for a healthier air .
10. Monitor your diet and stay hydrated 
Preserving your skin and keeping it beautiful during the winter also involves good nutrition. For this, choose products rich in fatty acids such as oilseeds to strengthen the elasticity of the skin, and avoid sugar and saturated fats. Bet of course on fruits and vegetables rich in vitamins.
Finally, remember to hydrate yourself by drinking at least 1.5 liters of water every day.
-------------------------------------------------- -------------------------------------------------- -------------------------------------------------- ----
Read also :
> 3 make-up tips for a radiant mine
> 4 chocolate masks for a glowing skin
Find all our beauty and wellness practical guides
Updated November 21, 2018.