Headline article
The 7 Commandments of a successful family shopping session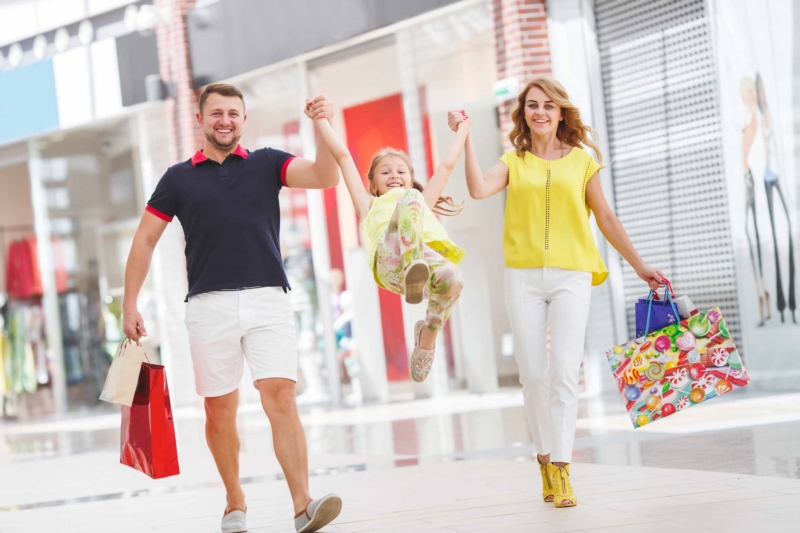 OCT. 2018
Any parent knows, shopping with your kids can quickly turn into a nightmare. To transform the test and make this shopping trip a pleasant time to live with family, without tears or nerves, sometimes just a hint of strategy to keep the troops and avoid overflows!
1. Your getaway, from the house you will prepare
Set the rules and communicate your instructions in advance : explain to your children that "no" means "no", that they will not have to touch everything, run on the shelves or get away from you.
Make sure before leaving that all have enough sleep and that the stomachs are full, it will avoid later temptations in cakes and other sweets. If possible, bring only one member of your tribe, you will give him all your attention and create with him a special moment.
2. The crowd, you will avoid
Simple common sense: choose the right moments and flee the busy periods where you have to play elbows in the aisles. If possible, choose weekdays or, if necessary, Saturday mornings, to be quieter. Exit also the eves of holidays.
To save you the rush of rush hours and endless queues at the checkout, avoid even the lunch break or the exit of work and their procession of stressed customers
3. The practical aspect, you will privilege
A shopping complex, in which several brands are concentrated, will allow you to group all your purchases in one place without having to go in and out without stopping, with the variations of temperature and repeated dressing / undressing that implies. Most shopping malls also have their own parking, an asset for parking easily without having to go around in circles for several minutes.
On your arrival, identify the relay persons (security agents, store staff ...) from whom your child can get help if he gets lost, it will calm you down.
4. Your child, you will involve
Children are naturally curious: try to get them involved by including them as much as possible in your purchases.
If they are old, make them heads of mission: give them your race list (it's even better if you've prepared it together at home) and send them as scouts to pick up a specific item. Ask them to put the products in the shopping cart or store the shopping at the checkout.
You can also transform the experience into a learning session and take full advantage of their general knowledge by teaching them how to recognize fruits and vegetables, how to differentiate between touching fabrics and clothing or decrypting labels.
5. His attention, you will divert
Prioritize your purchases, so as not to disperse, but do not stay too long in the same shop or aisle: As the children are not patient, it is useless to ask them to wait quietly for hours. If a whim looms on the horizon, use and abuse the technique of diversion by focusing their interest on an interesting object.
Despite all your subterfuge weariness is felt? Vary the pleasures by changing activity : play hide-and-seek in the changing rooms, take them on a ride or spend their surplus energy on a playground.
Learn how to manage cash waiting. Having previously planned a book, a snack or a distracting toy (but not noisy!), The time will seem less time.
6. A snack break, you will offer
In the middle of the day, when nervous fatigue sets in and everyone, including you, begins to reach its limits, enjoy eating places between two shopping sessions : an ice cream for them, a coffee for you, just to recharge the batteries and go back to the onslaught of shops packed up. This will also prevent your offspring from being irritable because hunger and thirst are beginning to be felt. 
Take the opportunity to take a walk to the toilet, to avoid any nasty surprises in the middle of fittings.
7. Congratulations, you will dispense
Do not be stingy with compliments, especially if the session was long and relatively intense, and your children were as wise as pictures.
To reward them, offer them an activity that they especially like , such as an outing to the park, to end the day in style.
This article was written in partnership with Walfer Shopping Center