Headline article
Christmas gifts: our tips for stress-free shopping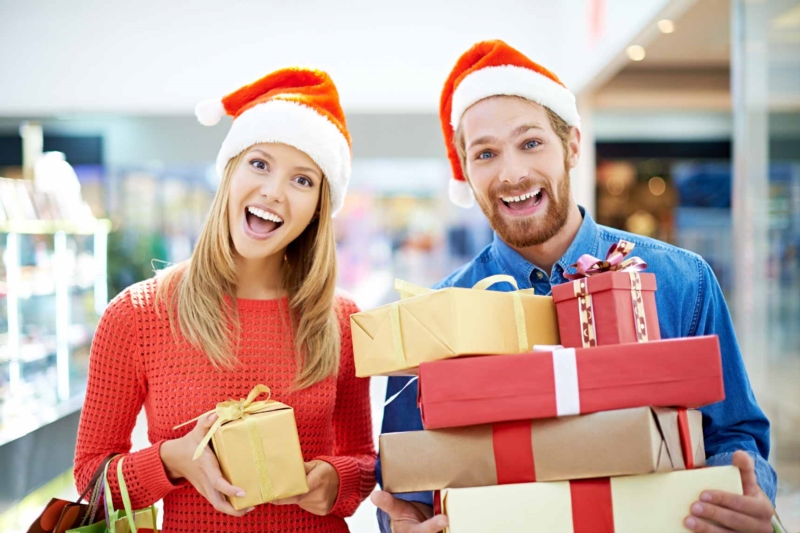 The hunt has been launched for several weeks, the deadline is getting dangerously close and you still have not found the ideal present to satisfy the tastes of each other: far from being a pleasure for all, the race for gifts is experienced by some as a chore, synonymous with stress and anxiety. So how can you best organize your Christmas shopping without spending too much time in the shops and live the end of the year with complete peace of mind? The answer in 7 points.
1. Claim a list for young and old
The method may seem outdated, and yet: have a list of gifts (or a letter to Santa for children) You will avoid going around in circles for hours if you are out of inspiration and you will enjoy every time. Do not be afraid to ask your entourage well in advance.
If the effect of surprise will be considerably lessened, at least you will be assured that your present will not end up in a drawer or on an online sales site the day after the eve.
2. Get ahead
Do not wait until the last weekend to start your Christmas shopping. The rule is immutable: any latecomer will surely experience the pressure of the countdown and will move heaven and earth to be ready in time. It would be a shame to have to fall back on an unconventional gift or be forced to spend a lot more than originally planned.
The beginning of December is therefore more than ever the right time to start your last purchases, to avoid the worst scenarios!
3. Save the crowd from the big days
As much as possible, do your shopping on weekdays or off-peak hours to explore without elbowing. By coming early in the morning, you will also have the maximum choice because the rays are replenished during the night. Out of stock, out of stock!
If you can, ask a day off or take your Friday afternoon. Try to pool all your purchases by setting your itinerary in advance to make them fit on a single day or a few hours.
Need to do last minute shopping and no weekday time? Know that the main shops and malls of Luxembourg will be open on Sundays 9, 16 and 23 December from 14h to 18h.
4. Add the forces
Form a team with some of your family or friends. Splitting tasks is an effective strategy: each will be given a series of shops to visit or a specific sector (toys, decorative items, books ...).
Choose the familiar places, you will spot all the faster and this will prevent everyone from scattering by rushing randomly on the shelves.
5. A little organization does not hurt
Before you start, take a little time to list each idea of present, its alternatives (we do not always find exactly what we want) and its approximate budget. Do not be too ambitious, you might end up finding yourself with nothing.
Once back from your shopping session, check the corresponding line and specify if the gift is ready to be offered as is: packaging, ribbons, label with the name of the recipient ... Also make sure to keep all your receipts for exchanges in case of disappointment, duplicate or garment size error.
6. Shop online
To not face the crush and choose at your ease, nothing better than ordering behind the screen to achieve your shopping in a few clicks. The offer on the web is often larger, and you can compare prices more effectively at different merchants.
Paying attention to delivery times will ensure that the gifts are at the rendezvous at the foot of the tree on D-Day, especially if you order abroad. Also study the general conditions of sale in order to inquire the terms of exchange and refund.
Internet offers another great alternative to make your life easier : online prize pools, that will allow you to easily raise money for gifts made in common.
7. Do not sulk the classics
The approach sins certainly for lack of originality, but it will at least have the merit of saving you the setting in case of emergency. Find a gift mat, to buy in multiple copies, will prevent you from presenting yourself empty-handed in front of a close "forgotten" distant cousin or niece.
Floral compositions, chocolates , grands crus , good gifts, biscuits or gingerbread modeled with your hands ... These safe values are always appreciated, and if they do not find takers, they will be just as good at home!
Two more tips (it's a gift)
Too late for this year? No worries, you'll do better next time.
Try to pick up (subtly) ideas throughout the year by surveying those around you, and write them down as you go through a "book of gifts" that will list everyone's tastes and interests. What a beautiful work base for the coming Christmas.
Enjoy sales, promotions or Black Friday to anticipate most of your purchases. This will ease your mind, and your wallet at the same time!
-------------------------------------------------- -------------------------------------------------- -------------------------------------------------- ----
Read also :
> Christmas magic takes hold in Luxembourg
Find all our fashion and shopping guides
Posted on December 7, 2018.