Headline article
Polyurethane foam spraying: how and why to use it?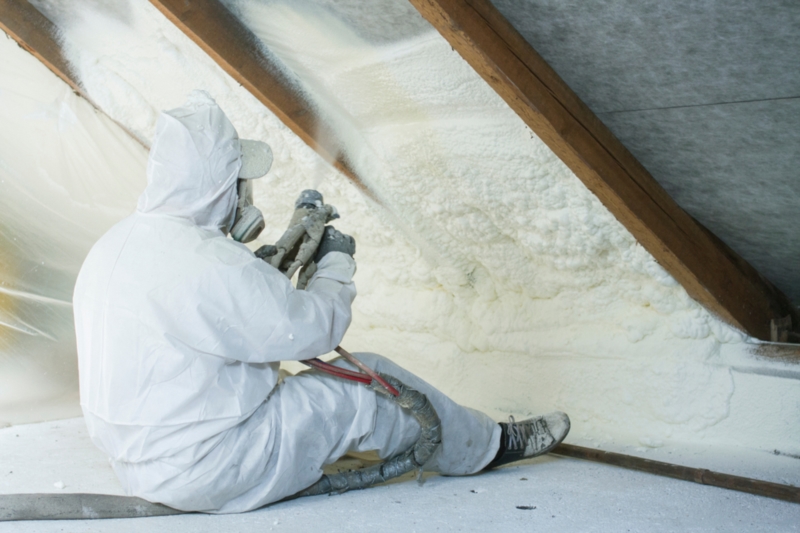 Polyurethane foam spraying is one of the most efficient thermal insulation methods on the market today. This expansive foam, which contains tiny air bubbles, can indeed inflate up to more than 30 times its volume without any increase in weight. Zoom on the specifics of this solution which has many advantages ...


How to use sprayed polyurethane foam?

The criteria to be taken into account in order to correctly spray polyurethane foam include both the setting of the spraying machine and the weather (temperature, rain, wind, etc.). The surfaces to be treated must not be dusty, greasy, rusty or wet, in order to allow optimal adhesion of the spray foam.

The projection of polyurethane foam on walls and ceilings requires specific training. The experts, who always work in pairs and wear special protective masks, know how to adjust their spraying machine so that it sprays a stabilized foam that will not deteriorate easily over time.
The two experts first install protective screens preventing projections from reaching certain elements (walls, windows, doors, etc.) surrounding the area to be treated. Before carrying out a projection on a floor, they carry out several level measurements and put protections on the accessories used to mount the drywall frames. They can then start spraying polyurethane foam. The ground insulation is supplemented by sanding allowing it to be leveled. The professionals then remove the protective screens and clean the site.

Depending on the surfaces to be treated and the dimensions of the home, a polyurethane foam spraying site can last from 1 to 3 days. It then becomes accessible to individuals again after good ventilation of the rooms.

Why use this method of isolation?

For individuals, polyurethane foam spraying can be used outdoors as well as indoors and can be used to insulate both old and new homes. This innovative solution allows extremely effective insulation of walls, attics, roofs, terraces, as well as new floors or floors to be renovated.

With regard to its industrial applications, this method of insulation makes it possible, for example, to insulate various types of buildings (factories, warehouses, offices, etc.), but also ships, cisterns or tanks.

A polyurethane foam spray has many advantages. Thanks to its micro-air bubble system, it is the best insulation currently available on the market. It is also an excellent acoustic insulator. Respectful of the environment (it is classified A + in the certification of plant variety), it does not rot and benefits from a longer life than other insulators. Finally, insulation made with sprayed polyurethane foam requires significantly less time than a standard insulation method. A significant time saving, which allows a reduction in the cost of the work to be carried out by the customer.