Headline article
Buying Guide: a mattress to get up on the right foot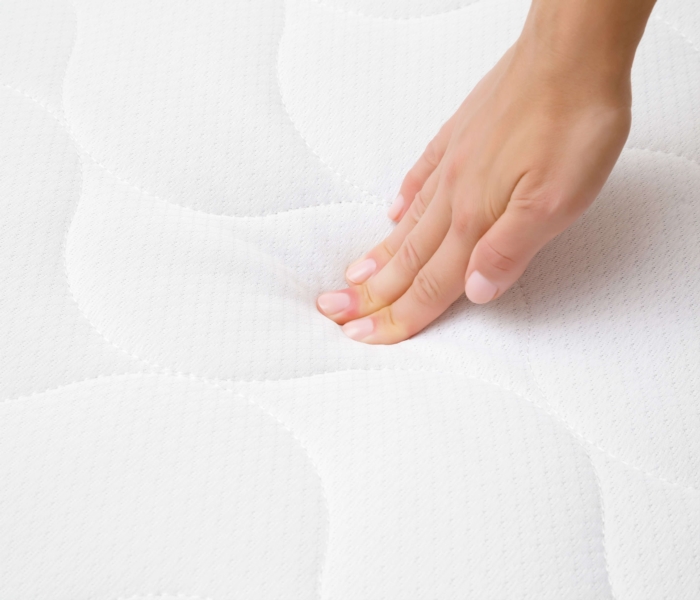 (Photo: © Shutterstock)
JUNE 05, 2019
Reading time: 4 min
Nights sawtooth, contractures waking, persistent fatigue throughout the day ... If you recognize yourself in this description, it may be time to invest in new bedding. But choosing one product over another is not easy, given the variety of models and technologies available on the market. Review of key elements to consider for an informed purchase.
The upkeep
This is the first fundamental criterion to which you must pay your attention. The mattresses are available in several types of supports , ranging from very soft to extra-firm. The major concern is the lack of standardized scale, each manufacturer agreeing on its own definition, which complicates the reading for the consumer.
The preferred option is a function of your morphology (height and weight) and increases proportionally with the corpulence. Avoid a mattress that is too soft or contrario excessively firm, which could cause a bad positioning of the spine to cause pain and disturb your sleep. In cases of chronic back pain or joint problems, a more secure model is recommended.
Do not forget that your feelings and personal tastes take precedence: tensions or sensations of discomfort in certain parts of the body should alert you.   
Suspension
Springs, foam or latex   : three materials, adapted to all budgets, currently coexist on the market and condition the quality of the suspension.
If you opt for a mattress with springs , favor pocket-type ones, considered as the top of the range of the category. Recognized for their maximum ventilation, they ensure excellent independence of sleeping by working independently, which means that if you sleep in a duet, the movements of your partner will not bother you.
For its part, the foam offers a very good value for money. A memory of form, it is the ideal suspension for those who suffer from the back   : by molding to the body and damping the movements, it decreases the pressure points and provides a better comfort. Avoid it though if you tend to sweat at night.
Finally, the latex, both natural and synthetic, has many qualities in the first rank of which a good moisture evacuation and the distribution of several comfort zones for the maintenance of the entire body. Hypoallergenic and elastic, it is also endowed with a flexibility and a capacity to deform which give it a greater longevity in the time.
In any case, keep in mind that a change in technology will involve a slight adjustment period.
The sommier
For maximum well-being, make sure you match it to your mattress, avoiding whimsical combinations  : difficult for example to make less compatible than a foam suspension and a box spring. However, this material will adapt perfectly to a slatted model.
Replace all of your bedding  at once   : your new mattress will deteriorate more easily if you buy it without renewing your box spring at the same time. 
Size
It will be defined according to your size and your use (alone or in couple). Standard dimensions range from 90x190 / 200 for a single bed to 140x190 / 200 or 160x200 for two people. Count 15 to 20cm more than your size or that of your half to be quite comfortable. The larger your mattress, the greater your freedom of movement during the night.
If your budget is more important, you can turn to an extraordinary bedding by choosing the tailor-made or the king size bed , which caps at 180x200 cm or 200x200cm for the XL model.
And after the purchase?
If professionals encourage the renewal of bedding every 10 or 15 years, proper maintenance of your mattress may however allow to extend its life.
Turn it over at least twice a year to avoid packing packing and take the opportunity to reverse head and feet to better distribute pressure. Daily aeration of the bedroom and regular vacuuming both on and under the bed to eliminate mites will complete the ritual.
Small size test
You have trouble relying on your own feelings? Rest assured, there is a simple and effective methodology to apply when buying in stores.  
First, try to pass a hand between your kidneys and the mattress. If you succeed, it is probably too firm.
Second  step: rest on the bed with an elbow. If the hollow remains marked when you remove it, bad sign, it will suffer too much flexibility.
Do not hesitate to try successively several products to compare them. Take your time (the body needs a few minutes to get used to it) and change your position frequently to mimic the actual conditions of use.
---
  READ ALSO