Headline article
Shopping guide: how to choose your smartphone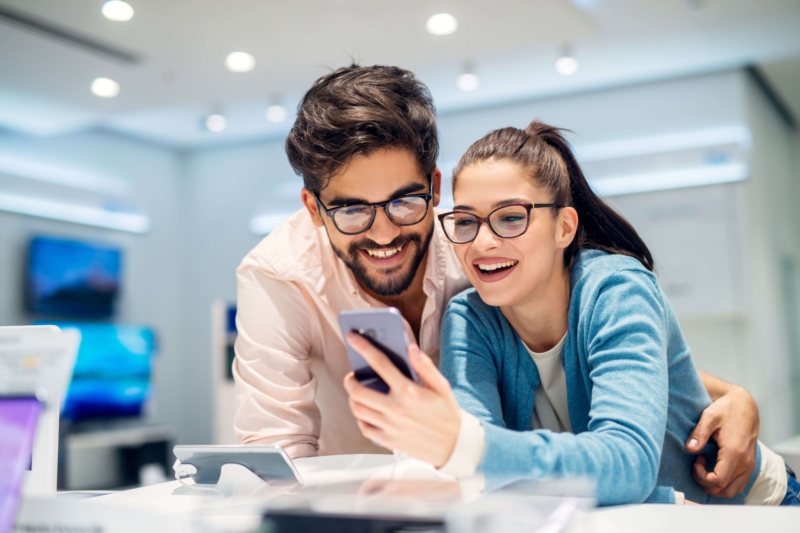 (Photo: © Shutterstock)
MAY 28, 2019
Reading time: 3 min
The supply of smartphones available on the market has never been so dense   : marketed by a plethora of manufacturers, declined in hundreds of references, there exists for all the tastes, uses and budgets. Screen resolution, storage memory, operating system ... What are the main criteria to take into account to  stop your choice   ? Listing features to compare to equip you with a device able to meet all your personal and professional requirements.
Smartphone or not smartphone   ?
The era of simple telephony has long gone. However, some diehards are still looking for a classic mobile with limited functionality, whose main interest lies in the fact ... to call. Manufacturers have seized the ball, and now offer many models in this segment.  
A large majority, however, will prefer to acquire a smart and versatile phone , for all at once surf the Internet, check his email , listen to streaming music or watch videos.
Finance issue, some models of small budget smartphones have a good price / quality ratio . However, for further use, prefer a mid-range phone more powerful and faster (between 200 and 400 €).
The size and quality of the screen 
These key factors will depend on the grip and ease of use and handling of your device.
In terms of size, screens 5 inches (12.7 cm) equip most current phones and are the minimum for good visual comfort .   Large format models, however, are gradually gaining ground, evidenced by the growing success of "phablettes" at the crossroads of tablets and smartphones. 
Another important parameter   : the resolution , which will condition the fineness of display. Today, Full HD (1,920 x 1,080 pixels), or very high definition, offers optimal performance. Beware of the poor quality screens on mobile prime prices : darker, less fluid, they react badly and can be very annoying in the long run. 
autonomy
Make sure the battery of your future smartphone is powerful enough to bring you high battery life , both in communication and in standby mode. Dedicated applications exist and can help you optimize it by tracking the most energy-hungry features.
External batteries are also an efficient alternative for machines with low starting autonomy. 
Storage capacity
Generally, a new smartphone has an internal memory ranging from 4 to 64 GB, sufficient at first to store photos and videos.
In case of additional needs, you can transfer some applications to an external micro SD memory card or save your documents in the Cloud (with all the precautions that implies).
The camera 
Current performances equal or exceed those of the best digital cameras. Some models have revolutionized the world of photography by acquiring an exceptional quality of 20 megapixels.
No need to be so ambitious, a main sensor with a resolution of 3 megapixels will allow you to make beautiful images . Selfie enthusiasts will appreciate a front sensor with fast autofocus. Some interesting options that you can pay attention to according to your attraction for the subject   : the automatic LED flash, optical stabilizer or burst mode.
The operating system
Two behemoths share the cake: Android (Google), the most open, and iOS (Apple), requiring the installation of specific software .
Your choice in this area will depend on your affinities with one or the other brand and the proposed application environment , as well as your pre-existing equipment to facilitate the synchronization of your files and multimedia content.
An ultra-resistant smartphone for clumsy and adventurous
Outdoor activity lovers prefer the waterproof and dustproof model .
The devices guaranteed without breakage also have a strength and robustness to any test giving them the ability to withstand repeated drops and shocks .
When we know the cost of repairs for a simple cracked screen , the question can be quickly decided! 
Do you want to change your smartphone? Choose according to your budget and your needs and compare the models with a telephone operator or storeto find the best prices!
---
  READ ALSO  
Join the "Technologies" community!