Headline article
Pollen allergies: they are back!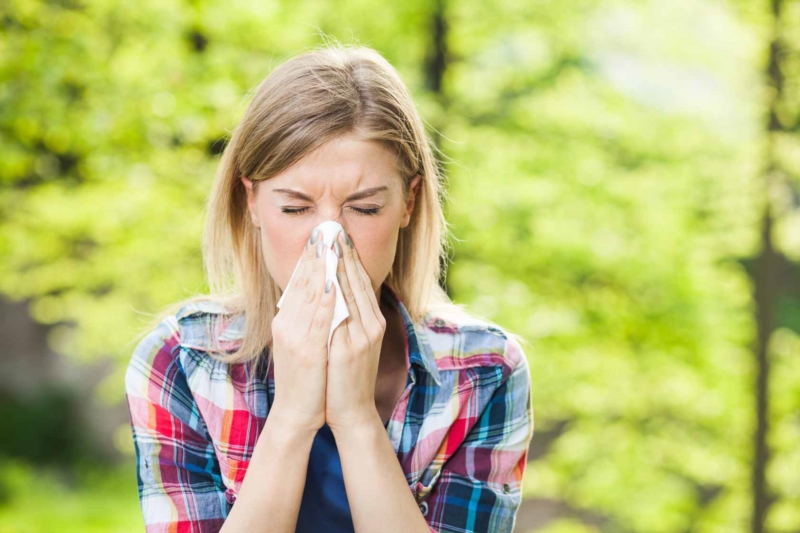 (Photo: © Shutterstock)
UPDATED FEBRUARY 25 2019
Reading time: 3 min
With the very mild temperatures of the last days, Luxembourg is experiencing a strong recrudescence of seasonal allergies. Disseminated with the wind, pollen can cause unpleasant symptoms in sensitive people: eye irritation, sneezing, coughing ... How to learn to react to these unwanted and identify the most critical periods toquicklyfindthe happiness of breathing at full lungs?
Allergic rhinitis: disabling and recurrent
More generally known as "hay fever", seasonal allergies, or allergic rhinitis, are chic to spoil the lives of those who suffer by disrupting heavy daily activities, especially outdoors.
Mass present in the atmosphere and carried by the wind, pollen interferes everywhere, including in our interiors, and are at the origin of many symptoms very close to those of a common cold (except fever and sore throats) that hurt the immune system.
If you suspect hypersensitivity to pollen, here are some typical signs that do not deceive :
A runny nose or a stuffy nose that scratches or spades
Red, swollen, watery or itchy eyes, causing a sensation of "sand"
Respiratory difficulties: persistent cough, wheezing, asthma ...
To each type of pollen its season
Several pollen seasons, more or less extensive, succeed one another throughout the year, from the end of winter to the first frosts of autumn. These vary with climatic conditions and atmospheric pollution, and do not return with the same regularity, especially if spring arrives early or late.
To inform you about the warning bulletins, to follow the evolution of peaks and to avoid periods of risk, regularly consult the forecasts of the aerobiology laboratory of Luxembourg via the site pollen.lu , set up by the Ministry of Health .
Keeping an eye on the pollination calendar of the main allergen species will also help you better anticipate your allergies to take the necessary precautions.
To know that pollens do not all have the same allergenic potential, some being more aggressive than others, birch for example.
Ambroise: August - September
Armoise: July - August
Alder: January - March
Birch: late March - early May
Charm: March - April
Oak: May
Ash: March - May
Grasses: May - August
Hazelnut: January - March
Plantain: May - September
London: May - May
Reflexes to defeat the enemy
To mitigate the effects of allergies and minimize your symptoms, some good things can be done.
At home :
Air your home every day and early in the morning (before sunrise), except in strong winds. Leave the windows closed at night.
Take a shower and rinse your hair before going to bed to dislodge the pollen that might be nestled there and prevent them from settling on the pillow.
Use pollen filters , Wash linens and curtains regularly, and do not hang laundry outside.
Do not keep fresh or dried flowers at home.
Avoid exposing yourself to other allergenic substances that can aggravate seizures by creating a cocktail: tobacco , indoor candles, detergents ...
Outside :
Prefer early outings or after heavy rains (pollen is not present in the air) and change clothes after each walk.
Wear sunglasses and a mask that will create a protective screen with mucous membranes. Leave your contact lenses for a while for the benefit of your glasses.
Keep windows closed by car and prefer air conditioning.
Mow your lawn as short as possible.
If you travel abroad or move to areas where the vegetation changes (Mediterranean basin ...), take into account this data and adapt your behavior.
In addition to these tips, strictly follow the drug treatment that has been prescribed. If you suffer from severe allergies, it can be undertaken preventively before the start of the season.
In case of frequent recurrence or symptoms that do not improve, consult yourdoctoror anallergist who will be able to perform skin tests. You can also request the advice of your pharmacistto find out about existing treatments.
---
  READ ALSO  
Find all our practical guides fitness and health