Headline article
Saint Nicholas and the tradition of the Boxemännchen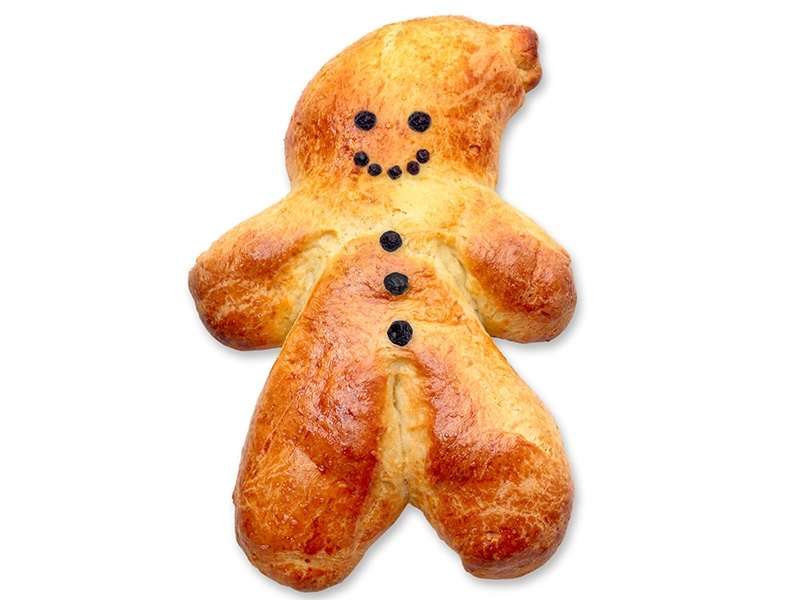 In a little less than a month, Saint-Nicolas will reward the wise children by giving them gifts, but also some sweets: chocolates, cookies and the traditional Boxemännchen. To wait until the date of December 6, you can already start to taste these little brioche men, real star of this party!
First a little history: who, Saint-Nicolas?   
St. Nicholas refers to Nicholas of Myre , a young bishop living in the fourth century and who, according to legend told, saved children from death.
Subsequently, in the Middle Ages, Saint-Nicolas was designated as the protector and patron saint of children .
It is not celebrated around the world, but in a handful of European countries only. Among them, Luxembourg, France, Belgium, Germany, Austria or Poland.
De Kleeschen and his sidekick, Housecker
In Luxembourg, St. Nicholas is called Kleeschen and, unlike Santa Claus, wears a red pointed hat (a miter) and holds a crook in his hand. Most of the time, he is accompanied by Housecker (Father Whipper) who, dressed in a dark garment, distributes twigs to children who have not been wise during the year.
Two weeks before the date of December 6, children put their slippers each evening in front of the fireplace or the front door of the house, in order to receive confectionery. The night of December 5 to 6, Saint-Nicolas is generous and brings, in addition to sweets, gifts.
The Luxembourg tradition: the Boxemännchen
Who says St. Nicholas in the Grand Duchy obviously says Boxemännchen , one of the most famous specialties of the country.
Normally, these little buns are offered December 6 by the great Saint to the wise children. But now, it is possible to buy from bakeries and supermarkets until one month before the date fateful. A treat for gourmands, whether they are big or small: the Boxemännchen is served for breakfast as well as for a snack, accompanied by hot chocolate ... A delight!
The Boxemännchen Belgian and French version
In France, Saint-Nicolas is mainly celebrated in the East of the country . In Alsace, like the Boxemännchen in Luxembourg, bakeries offer a small brioche called Mannele , which may contain chocolate chips or small raisins.
On the side of Belgium, these little buns in the shape of a man also exist, and are called cougnous . Traditionally, wise children also receive speculoos with the effigy of the great Saint. On the night of December 5 to 6, the children leave, at the foot of the fireplace, a small glass of alcohol for St. Nicholas, and a bowl of water and a carrot for his donkey.
Want to enjoy a Boxemännchen? Find a bakery on Editus.lu!
Updated November 14, 2018.