Headline article
10 tips for starting the guitar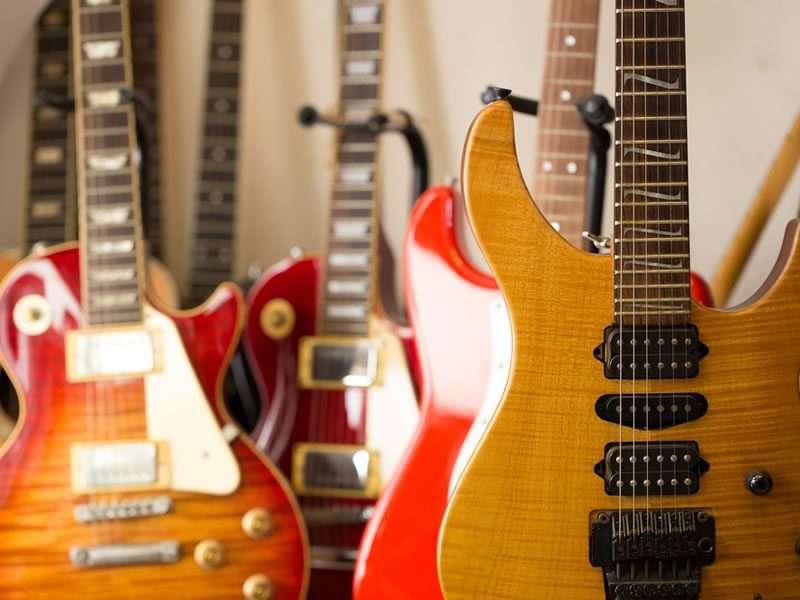 You have always enjoyed the sound of the guitar, and you dream of playing it yourself? Get started! There is indeed no age to start, the guitar can be learned at any time. Here are some tips to start ... What to become a talented guitarist!
 
From practice, a lot of practice
To progress, and it's the same for any discipline, you have to train: repeat the same movements hundreds of times , to improve his technique but also to impregnate theoretical bases .
Without work, it's clear, you will not progress. On the other hand, we advise you to spread out your learning time: thus, rather than playing one day a week for 5 hours, prefer to practice your instrument every day for 30 minutes . This is proven, it will help your brain to memorize information more easily.
To avoid discouragement, opt for an easy directory ... Do not set the bar too high quickly, Jimi Hendrix is not willing!  
 
An adequate learning method
Some prefer to learn by ear and then reproduce what they have heard, while others prefer to learn chords. There are also those who want to know everything in detail: in short, to each his method. Moreover, the more it will suit you, the more you will remain motivated to learn .
Once you've targeted the one that's right for you, stick to it. Because if you change every month, you will never progress!
To help you stay there, it's best to take classes with a teacher . With his help and specific exercises, you will quickly see progress.
If you think you have enough rigor, you can also learn alone through books and / or videos. It will cost you less than using a teacher, but you will not benefit from advice, especially to reframe you.
 
Give time to time
Do not dream, you will not become a remarkable guitarist in a snap ! You will have to be patient, if only already, to not have any more pain in the fingers after having chained some agreements.
Do not aim too high, too fast: operate in this way could make you have bad habits, or even disgusting the guitar!
 
Courses
Because learning by oneself is good, but practicing with a pro is better! If you have the opportunity to take a few lessons, jump on the opportunity .
A teacher will allow you to learn much more than through a book or video, and he can guide you in your practice. He can also answer all your questions and queries, and you avoid acquiring bad habits.
 
To have fun
The important thing, finally, is to have fun! Be happy to play, even if you make mistakes and the song you are playing sometimes sounds wrong.
From the first days of your learning, try to find the right balance between work and pleasure. Over time, the more you have stored theoretical knowledge and master the technique, play will be a real pleasure for you.
 
The guitar: make the right choice
It's primordial ! If you are a novice, it is advisable to opt for a classical guitar . The disadvantage is that it does not play all musical styles, only jazz or flamenco. But it's a good start!
The folk guitar ,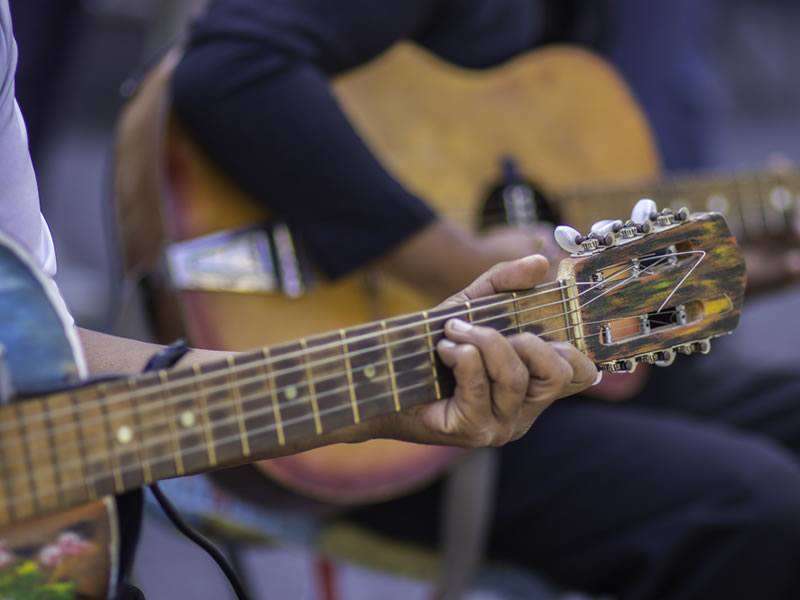 it offers the opportunity to play blues, country and folk of course. However, it is not ideal for a beginner because its strings, bronze or steel, can eventually hurt your fingers.
Once the folk guitar mastered, the advantage is that you can pass without difficulty on the electric guitar . However, nothing prevents you from scratching your first chords on this kind of model if you wish.
For a first instrument, pay between 200 and 400 euros . The price of some guitars exceeds 1,000 euros, but it is not worth investing such a sum for a beginner. By cons, escape guitars worth less than 100 euros, the quality will not be at the rendezvous.
Buy in store
Two choices are available to you to make your purchase: go to the store or on the net.
In commerce, you will not only have the opportunity to test various models, but you can also find answers to all your questions from a seller. Before you go through the store door with your object under your arm, you must know all the characteristics: Do not hesitate to submit all your questions, even those that seem to you the most wacky.
On the web, you will not enjoy the same comfort, it will be impossible to try the instrument. It is better not to go through this route unless you are really sure of your stroke.
Note that you can also indulge in a secondhand guitar. It happens that some traders sell it. It's a good compromise if you do not want to invest too much money, without knowing if you will like playing.
 
Register
By opting for this technique, you can listen carefully. Certainly, it will probably not please you to hear the details and flaws of your game, but it is a bad thing for a good. By doing so, you can only improve !
 
Playing with others
As a beginner, you will probably be afraid to share the "stage" with musicians, believing that you are not good enough. But force yourself, you can learn a lot from them.
Moreover, the majority of musicians will be happy to play with you, whatever your level.
If you do not know where to find acolytes, check with your teacher or search forums .
Once you have taken the step, you will certainly not spend any more moments between passionate.  
 
One last trick
From the beginning, take the fold to systematically tune your instrument before you start playing it . Without this, your musical ear could suffer: you might get used to hearing notes and chords that are absolutely wrong.
 
This article was produced in collaboration with Guit-Art