Headline article
How to save your tree from the claws of your animal?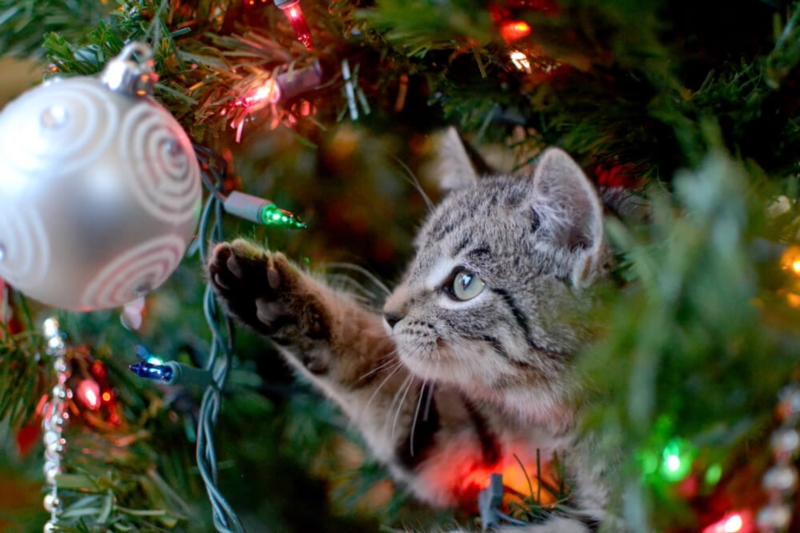 DEC. 2018
In a week it's Christmas, and you want to decorate your interior with pretty garlands and candles. And most importantly, you want a majestic tree that will proudly stand in your living room. But you also have a dog or a cat, and this is where your worries begin ... How to protect the tree from the assaults of a turbulent cat who will want to see more closely the flashing bulbs? How to protect your hairball from small thorns? Here are some tips!
Choosing a suitable place to install your tree is not easy because your pet is certainly used to walk freely in all parts of the house. You will need to find a safe enough spot that is not too easy to reach for your dog or cat, but at the same time a place where you and your family can enjoy the beauty of the tree.
Place your tree away from the furniture: they could serve as a springboard. Also choose a place not too far from the catches, to avoid the extensions of electric garlands very tempting for the animals.
Security around your tree
Fix it to the wall or ceiling so that it can stand despite repeated attacks. Your cat loves doing acrobatics and will not hesitate to climb. He could then be seriously injured if the tree were to fall.
You can also install it in a corner and hang it with a fishing line . It will not be visible. You can also provide a small barrier in front of the tree or, why not, spray a nontoxic repellent.
Protect the electrical cables around your tree. Puppies may want to chew them and risk being electrocuted. Use a protective sheath or secure the cables out of reach.
Decorations chosen with care
To decorate your tree, take special care to choose materials and decorations. Avoid flashing garlands that will absorb all of your pet's attention. Instead, prefer pretty ribbons.
Hang your balls with string rather than a metal hook that could end up being swallowed by your dog. Also prefer plastic balls to glass ones that could hurt your pet if they fall and break.
Patience...
The arrival of a fir tree at home will cause great agitation in the mind of your dog or cat. He will have to get used to it. Feel free to leave your tree blank for a few days so he can make the idea that this tree will stay in your home for a while.
Do not put gifts at the foot of the tree too early , because your four-legged friend will be happy to sniff them, and may even want to plant his quenottes ...
Prevent small and big boos
Despite all this advice, stay vigilant. Regularly sweep the needles so they are not swallowed. Only light garlands when you are present and keep an eye on your pet.
In spite of all your attention, it is possible that your dog or cat is injured. The dangers of fir are many: gastroenteritis caused by needles, electrocution with garlands, cut with a ball ... For all these reasons, an animal insurance can be useful in case of glitches.
---
  READ ALSO  
Find all our practical guides animals