Headline article
Swimwear purchase guide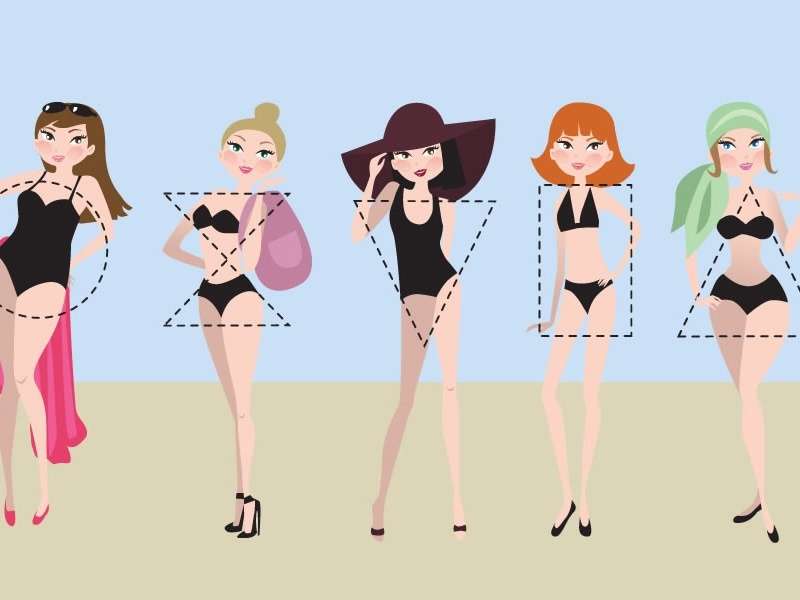 Every year is a real ordeal for you to find the swimsuit in which you feel good? Depending on your silhouette, you will see that some models will be better than others ... We tell you more to be at the top at the beach or by the pool!
Everything is a question of morphology! To find the jersey that suits you best, it is necessary to determine your silhouette.
Silhouette in X
Your shoulders and hips are lined up, you are thin and your waist is not very marked, you have a small chest.
Good news, everything suits you, even the trikini ! By cons, avoid the high pants, which will come to hide your already small forms.
Silhouette in A
Your shoulders are fine, your chest is small, your hips are wide.
To lift your figure, choose a low-cut panty , it will give an impression of length to your legs. Regarding the top, to give volume to your chest, choose a push-up, a banner or a triangle .
The fringes are also an option to consider, as well as the shirts crossed in the back, as they will strengthen your build.
Silhouette in V
Your shoulders are wide, your bosom generous, your waist and your hips are fine.
In order not to attract too much intention on your frame which is wide, take a top with straight straps , and forget definitively the blindfold. You can also draw attention to another of your strengths, your chest, thanks to a v neckline .
To lengthen your legs and give volume to your hips, panties low and ideal, just like the shorty.
Silhouette in H
Your shoulders, hips and waist are aligned.
To mark your size, it is important that you bring volume both on the top of your body and on the bottom of it. The best is a bikini that you tie around the neck and on the sides . In order to accentuate your chest, your top needs to be padded.
If you choose to wear a one-piece swimsuit, take one with a cut that is worked, and whose straps will emphasize your shoulders.
Silhouette in O
Your figure is balanced, you have curves well placed, your size is very slightly marked.
To draw your décolleté, favor the bra with balconettes , and the bottom with an adjustable belt . If you want to camouflage your belly, opt for high-waisted pants.   
You are pregnant ?
Do you know the tankini? This is a one-piece two-piece suit that is very popular with pregnant women. The top looks like a tank top, it goes down to the top of the pants, and can extend lower, being more or less molding. The bottom is often a simple panties or a shorty.
And for men?
No, gentlemen, we have not forgotten you! As for women, everything is a question of morphology:
If your bust is the same length as your legs: avoid long shorts, prefer the loan of the body.
If your legs are short and your bust long: opt for a classic dark shorts, a baggy boxer .
If your legs are longer than your bust: try the boardshort, the long-cut boxer worn by surfers
Everything suits you, wear whatever you want! Even the bathing trunks, popular until the end of the 80s, you can afford.
Go for a long shorts and solid color: the boardshort will be perfect.
Choose a boxer baggy that will fall over your knee, not below.  
The maintenance of the jersey
After each use, rinse it because the chlorine, salt and cream do not forgive. To prevent shrinkage or discoloration, wash it by hand and in cold water .
If you want to wash it in a machine, slip it into a pillowcase or net and opt for the wool program.
Do not let it dry with moisture , and avoid wrapping or twisting it to wring it out. For that, it is better to mop it in a towel.
To dry it, do not put it in the dryer or in the sun, as it may discolor it. Extend it in the shade.
When you wear it, avoid sitting or rubbing on rough surfaces if you do not want to see pills.
Tips from grandmothers
A task of seawater ? Dab a wet cloth with a little white vinegar and rinse.
A task of oil or bronzing cream ? A little moistened Marseille soap and hop, we rub! 
If it does not work, try plan B: a wet cloth with a little ammonia.