Headline article
7 tips for a successful wedding invitation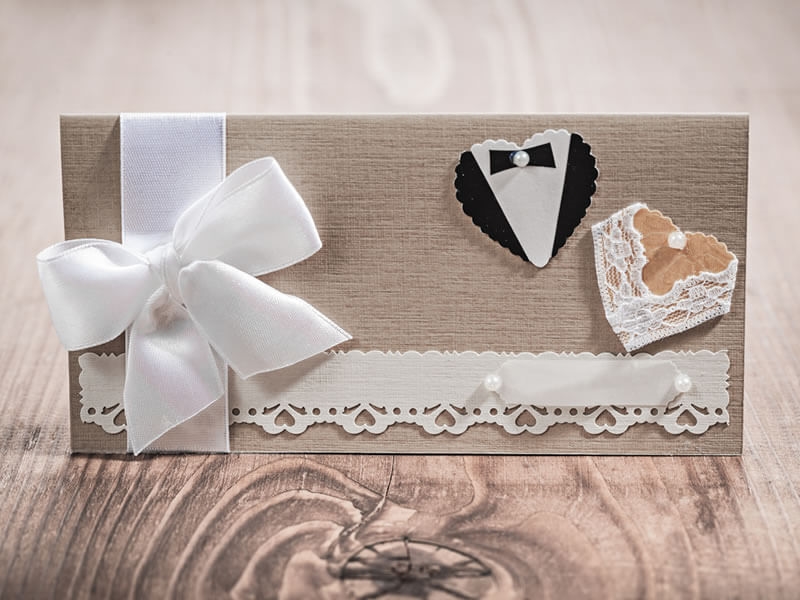 Are you going to get married ? Congratulations! To announce the event to your loved ones, you must send announcements . We guide you to make yours perfect!
1. Which paper to choose?
Messenger of a size event, your announcement will be handled by its recipients. It must therefore have a certain "holding". Important detail: your paper should be able to serve as a print medium (unless you have decided to write your announcements by hand ...)
To make sure that you make the right choice, use heavy-weight bristol paper, between 250 g / m² and 350 g / m².
Side finishes, everything is about taste. Classicism tends towards white papers or ivory laid, elegant and conventional. The trend is rather colored papers or "creation" iridescent, tracing or kraft ... The choice is such that you will have no trouble finding yours!
2. Which calligraphy to choose?
Hand-written wedding invitations are rare ... It is even possible to obtain a result very close to a handwritten text with a simple word processor. If you want a classic invitation, you can opt for an English writing in a sober color (navy blue, black, burgundy or dark green ...) But nothing prevents you from mixing several colors and different typography for an original result. Indulge yourself, keeping in mind that your text should be clear, easily readable by everyone ... and without spelling mistakes! The only rule to follow is to keep an airy layout.
3. The most important information to highlight
In a time of excitement, it happens that we skip some obvious elements. You will spend time to formulate your ad, it would be a shame to forget the essential! A quick reminder of the key points:
Who and what? Make the announcement of your union without forgetting to communicate your personal details to your entourage (address and telephone number). They will be able to give you their answer easily.
When? The date is essential, but it is not enough: remember to indicate the times of each step of the day (ceremony, wine of honor, meal ...)
Or ? Indicate precisely the place of each step of your wedding. It may be wise to prepare a plan to attach to the invitation card.
What kind of ceremony? The way you want to formalize your union is important: remember to clarify whether you will celebrate your wedding religious, civil or secular.
4. Separate the announcement card from the invitation card
Would you like to invite your circle of friends to your wedding dinner, but not the great-aunt's cousin who lives in Australia? Working colleagues, distant relatives ... Some people can be informed of your union without being invited. It is better to avoid misunderstandings from the start. Dissociating the announcement from the invitation is the most practical solution to clearly inform each member of your entourage near and far.
5. When to send the announcement?
Neither too early for your guests to have their schedule in mind, nor too late to prevent your ad from appearing casual. The ideal is to send your announcement between 2 and 6 months before the day J. This delay allows guests to organize to save the date for sure.
If you have planned to get married on a date or a key period of the year (holiday, holiday ...) you can send a "Save the date" between 6 months and one year before the event. While waiting for the official announcement, it will allow your relatives to make their arrangements to be there.
6. Add an information box if necessary
Already a lot of information on the announcement and the invitation card? To avoid overcharging, do not hesitate to add an additional sheet.
This will allow you to communicate several important elements to your guests so that your day is the most Zen possible. Access map, information on the theme of the wedding, dress code to respect or address of the website created for the event ... It is also an opportunity to mention your wedding list if you wish.
7. Do it yourself or not?
Even if it is tempting to make your announcements from A to Z, it is an option that requires creativity, stationery, a robust printer ... and a lot of time. If this is your wish, it is better to take it in advance. In the end, making his announcements does not necessarily cost less than calling on a specialist!
Entrusting the realization of his wedding invitation to a specialized provider today offers a great freedom of creation. It is possible to create a unique model starting from a simple idea, to decline a pre-existing model, to modify its colors, its typography, the type of paper ... The options are multiple. Some specialists of the Announcement will even be able to take care of their sending!
If you have a clear idea of the announcement of your dreams, you can create the model yourself and entrust it to a printer . It's up to you to refine the hand-made details: decorative stamps, personalized stamp, ribbons ...