Headline article
10 express dishes for the return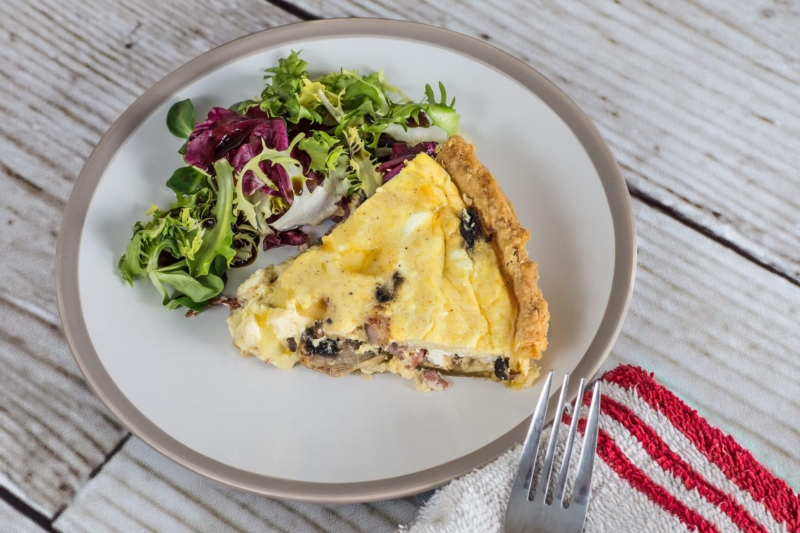 Between the race of the new school year and its lot of formalities, the resumption of work and the change of pace, you will need a lot of organization for the preparation of your meals. Discover our 10 ideas of express dishes that will please the whole family and you will avoid spending hours in the kitchen!
1.      Salty pie with a green salad
Among the musts, quiche lorraine is ultra simple and fast to achieve!
You can also opt for vegetable pies , such as onion and leek pie (to avoid the chore of peeling, it is even advisable to buy frozen, ready to be cooked in the pan), or the pie with tomatoes and mushrooms.
2.      The salty cake
Another version that can be enjoyed on the go is the salty cake .
Olive ham, peppers-tomatoes, chorizo-goat cheese, spinach-salmon ... You will find your happiness!
3.      Stuffed tomatoes and rice with vegetables
Choose large, juicy tomatoes and garnish them with stuffing from your butcher's shop.
While they are baking, prepare your vegetable rice (cubes of zucchini or flat beans cut into pieces).
4.      The croque-monsieur
Feel free to revisit this essential of French gastronomy by testing its different variants.
For example, add mushrooms, raclette or salmon to change the traditional recipe.
5.      The gratin of pasta or dauphinois
They come in many varieties (macaroni with ricotta and green asparagus, spinach penne, shells with ham and cheddar ...), and will delight young and old!
6.      Lasagna
Very simple to cook and friendly, they can be made in a vegetarian or Bolognese version , by making minced meat with onions and tomato sauce.
7.      Chicken stir-fried curry and fragrant rice
Brown chicken breast strips in a frying pan to combine with an already cooked curry sauce to save you extra work.
8.      The salads
To prolong the summer and to enter gently in autumn, do not neglect the salads , which are still very pleasant by sometimes warm temperatures:
quinoa salad with cherry tomatoes, avocado and mozzarella;

watermelon salad with feta cheese and basil;

rice salad with tuna, olive, egg and tomato;

green lentil salad of Puy with white onions, bacon and coriander;

tabouleh with tomatoes and peppers.
9.      The barbecues
If you are lucky enough to have a suitable outdoor area, grilling is always quick to prepare.
They can be accompanied by a salad of tomatoes and feta, or potatoes cooked in the oven or embers.
10.      Raw fish
Finally, do not forget the fish tartares and carpaccios (salmon, sea bream ...), which can be directly prepared by your fishmonger. You will then have to take care of their seasoning.
There too, you can accompany this dish with a small salad of lamb's lettuce and arugula, topped with strips of radish to give more crunch.
-------------------------------------------------- -------------------------------------------------- -------------------------------------------------- ----
Find all our cooking tips and our gourmet recipes
Posted on August 28, 2018.