Headline article
Recipe: a pretzel for the chosen one of his heart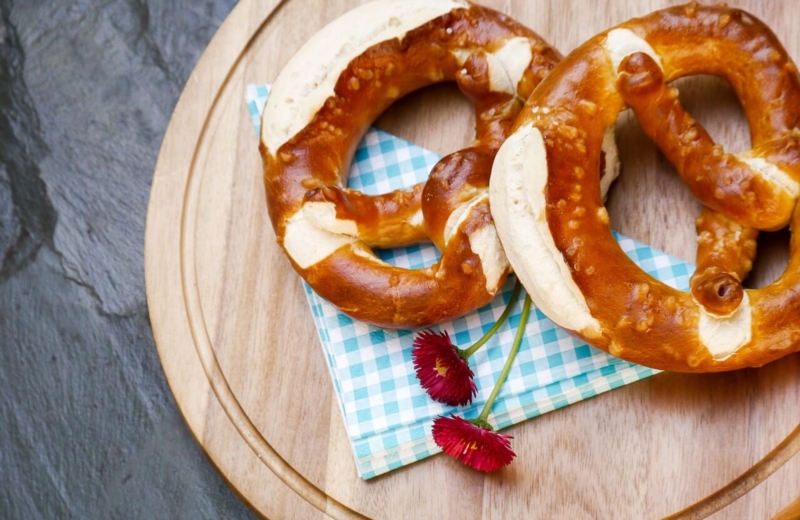 (Photo: © Shutterstock)
MARCH 29, 2019
Reading time: 1 min
Every year, Luxembourgers celebrate the Bretzelsonndeg on the fourth Sunday of Lent. Notice to gourmands: here is the recipe for sweet, puffy and tasty pretzels, perfect for tenderizing the heart of your beloved!
Tradition of long course, strongly anchored in the popular spirit, the "Sunday of the pretzels" continues for more than 100 years in the Grand Duchy.
Tasted in a salty or sweet version, classic or as you wish (sugar, chocolate, cinnamon ...), these typical pastries   represent the intertwining of two lovers coiled in each other's arms.
Traditionally, the boy offers a pretzel to his beloved to declare his love . Lucky ones have to give back a chocolate egg on Easter Day as proof of love. Otherwise, the disappointed suitor receives an empty basket.

| | | | |
| --- | --- | --- | --- |
| | 100 minutes | | 30 minutes     |
| | 4 people | | Cheap |
| | Easy |   |   |

650 gr. of flour
60 gr. soft butter (or margarine)
50 cl. slightly warmed milk
2 tbsp. fresh yeast
1 pinch of salt
1 C. tablespoons sugar
1 egg yolk to brown
Preheat the oven to 200 ° C (item 6).
In a bowl, mix the flour , sugar , softened butter , yeast (dissolved in warm water) and milk . Knead slowly until the dough is elastic.
Let the dough rise at least an hour at room temperature and covered with a cloth so that it doubles in volume.
Spread the dough on a floured surface and divide it into 6 dough pieces. Roll them in small sausages. Shape the pretzels into shape, and brush the egg yolk with a little water.
Let stand for 30 minutes again.
Bake for about 35 minutes.
You can decorate with grains of sugar or flaked almonds .
To be enjoyed at breakfast or at tea time!

You may have some fairy fingers, nothing beats the ancestral know-how of abaker-confectioner : find a craftsman near you with Editus!
---
  READ ALSO  
Find all our practical cooking guides and our gourmet recipes