Headline article
Chef's recipe: leg of lamb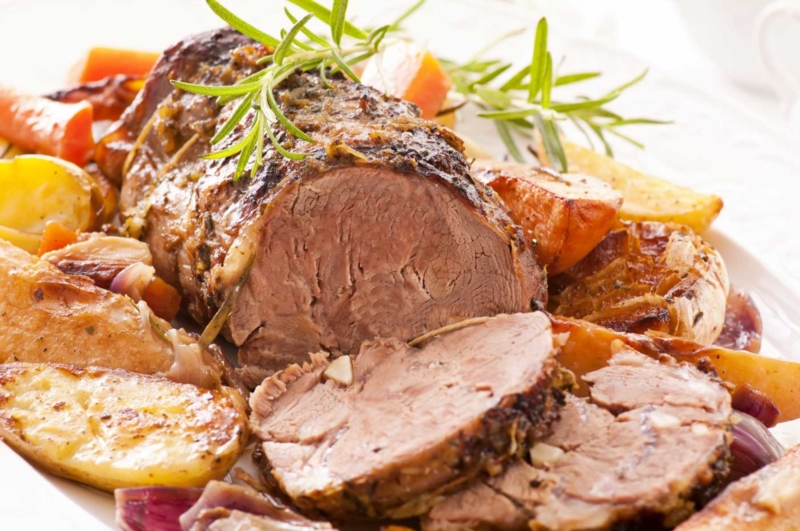 Lamb is part of the traditional Easter menu. Long candied in the oven, with its spring vegetables or potatoes, it is the ideal dish for a convivial meal with family or friends. But succeeding a leg of lamb is a delicate exercise. How to make sure to present to your guests a piece of melting and juicy meat that will remain in the annals? The chef gives you his recipe.
• Cutlery: 6 people
• Preparation: 20 minutes
• Cooking time: 4 hours
• Cost: affordable
• Difficulty: easy
INGREDIENTS
•   1 leg of lamb of about 2 kg (count 300 grams per person)
•   4 onions
•  
2 shallots •   1 carrot
•   1 small
celery stalk •   2 cloves garlic
•   1 bouquet garni
•   2 sprigs of thyme
•   15 cl of dry white wine
•   1 chicken broth
•   2 tbsp. tablespoon of olive oil
•   Salt
•   Ground pepper
PREPARATION
1. Preheat the oven to 180 ° C (th.6). Finely chop the onions and shallots, and cut the carrot and celery into cubes.
2. Brown the leg of lamb on all sides in olive oil until lightly browned. Book it.  
3. Cook the vegetables on a low heat with the bouquet garni, then place in a baking dish. Pepper, sprinkle with thyme and add the white wine, chicken broth and 15 cl of hot water. Crush the cloves of garlic and arrange them around the leg.  
4. Cover the dish and bake at
mid-height for 4 hours. Turn the leg every hour to ensure even cooking and water the meat regularly with the juice. Do not salt until the end of cooking, to avoid drying the flesh.
5. Remove from oven, cover with foil and let stand 15 minutes.
6. Cut the leg into thin slices and serve very hot. Serve with mashed potatoes, a gratin of seasonal vegetables or parsley fried potatoes.
> The trick to know
For tender meat, it is best to keep it at room temperature before working on it. Take it out of the refrigerator at least 2 hours before starting the preparation.