Headline article
The unmistakable recipe of pork caramel sauce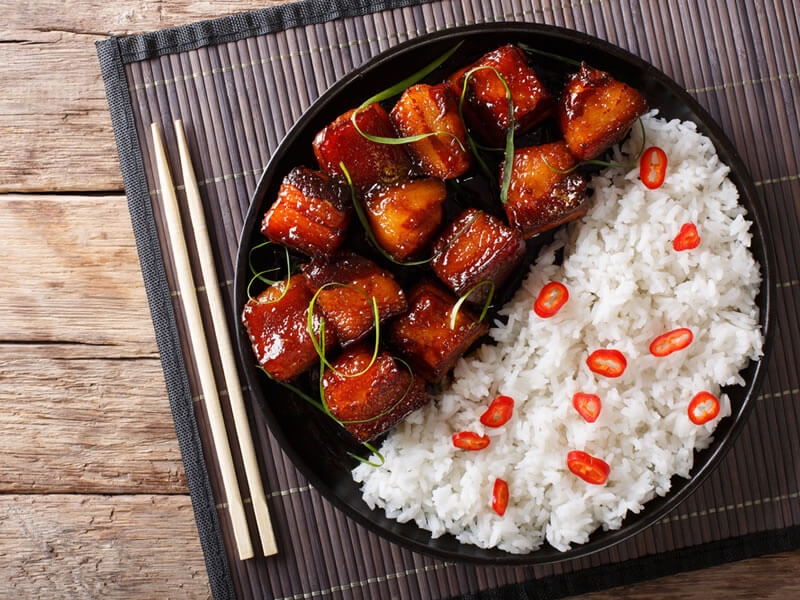 Amateur of Asian cuisine, but also sweet / salty, this dish is for you! And if, instead of eating at the restaurant, you prepare it at home? We give you our recipe that will allow you to feast.
 
| | | | |
| --- | --- | --- | --- |
| | 15 minutes | | 20 minutes     |
| | 4 people | | Cheap |
| | Easy |   |   |


500gr. pork tenderloin
60gr. sugar
50cl. water
4 tablespoons salted soy sauce
4 tablespoons of sunflower oil
2 tablespoons of nuoc mam
2 teaspoons freshly grated ginger
1 cube of chicken broth
Cut the pork into large cubes.
Heat a saute pan with sunflower oil and fry your meat for 5 minutes. They must be colored on the outside, and bleeding on the inside. Then book them, and clean the sauté pan you just used.
In a container, immerse your chicken broth in half a liter of hot water. Once mixed, add the soy sauce, ginger and nuoc mam.
Prepare the caramel: mix the sugar with 20cl. water and broth mixture.
When the caramel is blond, add the remaining broth. To prevent the caramel from hardening, mix it without interruption with a wooden spoon.
Subsequently, immerse the pieces of meat. The mixture must completely cover them.
Cook for 20 minutes over low heat, stirring occasionally.
Serve hot with rice.