Headline article
Some tips to protect your dog from the cold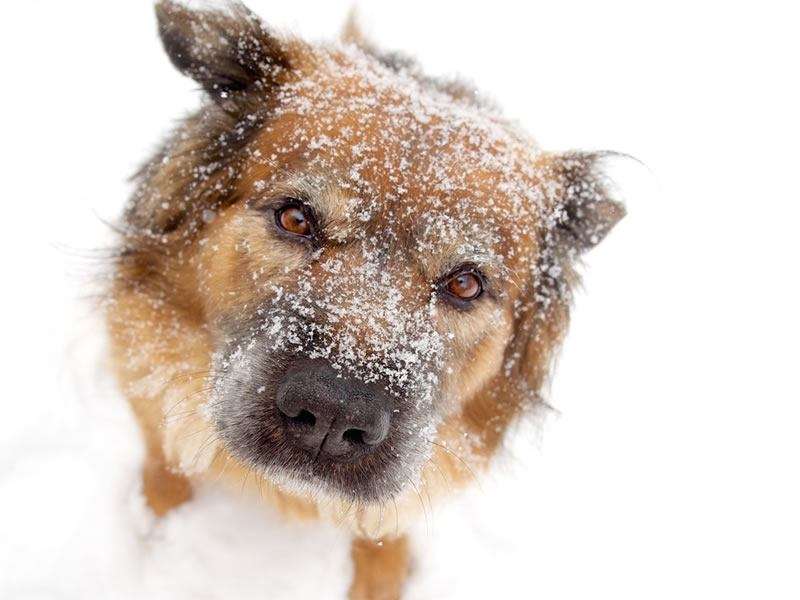 Winter is coming up, and despite their fur, our four-legged friends also suffer from the cold. This does not mean that the outputs must be removed, even if some precautions are to be taken.
What are the most chilly dogs?      
With a body temperature around 39 degrees, the dog is more resistant to the cold than the human being. However, not all dogs are equal in the freezing temperatures.
Thus, miniature and short-haired breeds will be more sensitive than long-haired and dense dogs, or a Husky or Newfoundland, originating from cold lands. It is therefore useful to see with your groomer if a "winter cut" is required.
A puppy will also be more fragile in the freezing temperatures than an adult dog. In the same way, it is advisable to be vigilant with the already older dogs, because their articular pains can wake up with the cold.
A dog used to spending time outside will be much more resistant than another who spends most of his time indoors, glued to a radiator.
Go for short walks  
If it's really cold, shorten the walk time with your pet. To spend time with him, you can play warm, at home as well.
During walks, if your dog is particularly chilly, you can make him wear a little coat. Warmer, waterproof and windproof than a sweater, there is something for every taste and in every price range.
Well-groomed pads   
The pads of dogs, their truffles also sometimes, can be attacked by the cold, the snow and the ice, but also by the salt of clearing of snow.
Back from your outdoor getaway, so be sure to wipe the pads of your pet well. You can also rinse with warm water and dry, or moisturize with a protective balm.
An adapted diet        
If your dog spends a lot of time outdoors, change his diet and provide him with more protein. After a walk in the cold, you can also give him a treat.
If your dog is spending all his time outdoors, it is advisable to increase his rations by 25 to 30%. Regarding its water, so that it is not too cold, prefer a stainless steel bowl to a plastic bowl.
A niche resistant to cold  
The shelter of your pet must be properly isolated from the ground. For this, you can, in particular, lift his niche with plastic feet.
The roof of its habitat must also be well insulated and you can also install inside, for more comfort, a bed of sleeping.
Caution in the snow
If it is tempting to have fun with your dog in the snow, precautions must nevertheless be taken.
Be careful and take care that he does not eat too much snow, it could cause him digestive problems. Also, be careful that he does not consume salt that is highly toxic to him.
To answer all your questions and to give you further advice, Editus.lu offers you a list of veterinarians . Do not hesitate to turn to these professionals!
-------------------------------------------------- -------------------------------------------------- -------------------------------------------------- ----
Read also :
> How to take good care of your dog
> Tips to keep your dog calm at the vet
Find all our practical guides animals
Updated November 27, 2018.