(Photos: © Goguette Trotter)
And if at the beginning of the year, one of our resolutions was to give free rein to our creativity? Yes, this artistic fiber that lies dormant in you, well buried deep but just waiting to go out! Look no further, I have the perfect address for you: Nordic Stella Ceramic Workshop.
This beautiful workshop specialized in ceramics, but not that, just moved station neighborhood in a place so perfect, so cozy, if Hygge that we would stay long.
After several years in her shop located rue du Nord in the city center, Annika has just put down her suitcases, full of ceramics, rue de la Fonderie , in the heart of the Hollerich district. What a beautiful idea!
The first place is "perfectly imperfect". By that I mean that it is not smooth, modern, quite the contrary ... Old garage refitted by Annika and her partners, this place has a charm with its white stone walls, exposed copper heating pipes, yellow rails on the ceiling.
Add to that vintage furniture unearthed by the owner of the place, flowers so beautifully placed here and there, window windows as a window, a beagle dog who keeps the entrance with his pout so unique and you get the new Nordic Stella.
Annika continues to open to the public from Wednesday to Saturday to paint on ceramic objects! (Wednesday from 10h to 22h, Thursday and Friday from 12h to 18h and Saturday from 10h to 16h). Adults and children (from 2 to 3 years old) are welcome in this place, there is no age for artistic handicrafts. On the contrary.
How does it work in practice? You come into the workshop and you choose a ceramic model. Annika offers a wide choice: it goes from the plate to the bowl, through animals or piggy banks, and of any size. Then, all the material is put at your disposal to paint. Let yourself go! Red, green, yellow, whatever it is YOUR work!  Once your creativity is expressed, Annika takes care of transforming your ceramic work into pottery, by cooking in her workshop. You can recover it a few days later and put it proudly on your shelves by sliding to whoever wants to hear it "Yes, yes, it's me who made it! "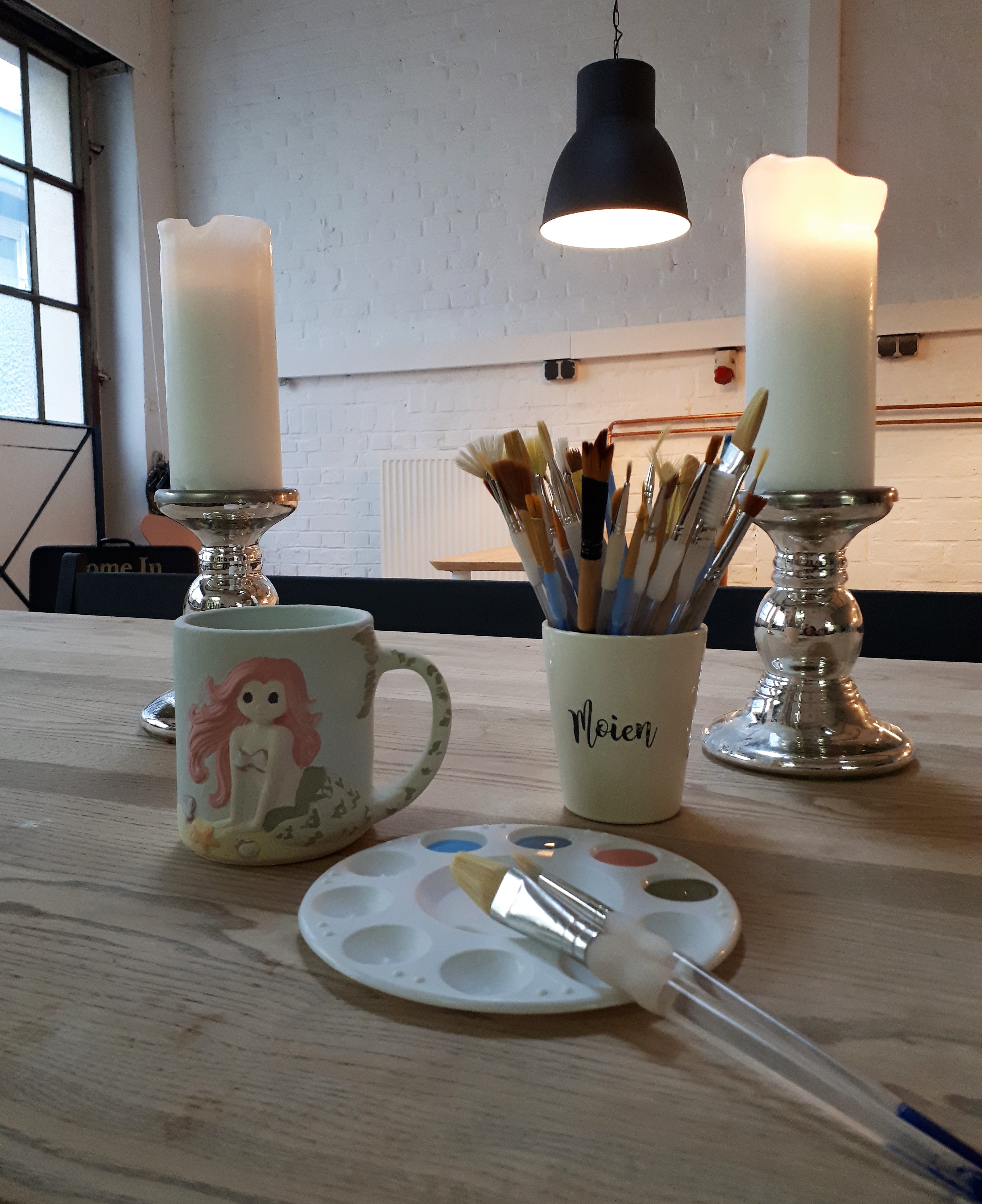 The space can also be booked for private events, including children's birthdays, weekends and evenings during the week. Do not hesitate to contact Annika who will be happy to suggest you the perfect formula to occupy your children!
Just as she did street North, Annika hopes to offer in this new place a multitude of workshops around art. Soon, there will be theme nights around knitting, for beginners and more advanced (March 12 and 10 ). Floral workshops will also be offered! Annika wants to bring art to life in all its forms and therefore remains open to all creative workshop proposals.
Finally, a small part of the space will soon be occupied by a children's clothing store , all made in Denmark. Simple, comfortable, colorful clothes, in a nutshell, so that our little ones can express themselves freely! Everything revolves around creativity at Nordic Stella, I'm not lying!
In short, you will understand that the purpose of this place is creativity in all its variations , as long as one uses his hands, his imagination and that we have fun!
Log in to the Instagram account or the Nordic Stella Facebook page to receive all event information!
The big day of inauguration will be on March 22 from 14h with workshops for children!
Revisit your life. Revisit your city. Creatively!

---
Share also the best addresses of Luxembourg with the Editus community thanks to the new function "I recommend this professional"!