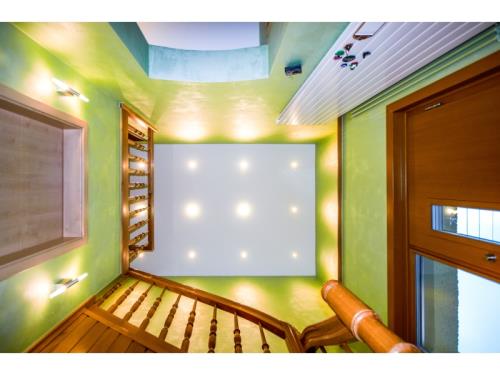 Stretch ceilings & -walls
Updated on
Renovation
Clipso - The alternative to the classic wall and ceiling cladding

What is a stretch ceiling or - wall?

The barely visible profiles are peripherally attached to the surface, the exclusive Clipso fabric is clamped at a distance of at least one centimeter.
The fabric therefore has no contact with the original surface.

Why Clipso?

The applications for the Clipso system are enormous:
Flawless surface
First of all is the natural property for Clipso to create by the tensioned fabric an almost flawless surface, as it is to implement virtually impossible with a traditional wall finishing.
Good for you: We are fast
It suffices freizuräumen the corresponding area in the attachment is hardly any dirt. The assembly is provided that the room is not overly complicated, completed within one day.
No need to edit the area previously
The wallpaper, tiles or wooden panels can easily get stuck. The Clipso fabric is easily stretched in front. Thus, it may well be that a reaction with Clipso is far cheaper and above all more practical than in a reaction with the classic refinement
Clipso fabric is available in many colors
Innovative thanks combination with lighting
Translucent, so light-permeable fabric, in combination with appropriate lighting technique, your face to backlight allows - your wall or ceiling is the lamp that creates in your room sunlight.
Improve the acoustics in the room
Acoustically effective fabric in combination with a corresponding acoustic fleece to reduce the reverberation time in your premises and thus optimize your room acoustics possible.